Restaurant Linderhof
---
12700 Kingston Pike • Knoxville TN • (865) 675-8700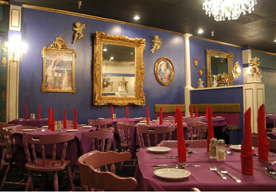 Restaurant Linderhof is Knoxville's ONLY German restaurant. We have been serving authentic Bavarian cuisine for over ten years. Linderhof accommodates casual diners while offering an elegant fine dining experience, and we create our food completely naturally without any microwaves or deep fryers. We feature a full service bar, including an extensive wine list, and we also serve Bavarian lagers like Weihenstepher, purportedly the oldest beer in the world.
www.RestaurantLinderhof.com

Linderhof is very passionate and committed to not only serving good food but healthy food. We are one of the only kitchens in the area to use trans-fat free cooking oils. Trans-fats are manmade fats that the body does not know how to process properly, and experts believe them to be one of the leading causes of coronary heart disease. We use nothing but a natural olive oil/canola oil blend, so rest assured you'll be in good health as well as in good company when dining with us.

Linderhof embodies the aura of Old Europe with Austro-hungarian artwork and decorations. Live accordian music completes the Bavarian atmosphere. We hope to see you soon, and would love to welcome you as part of the family!

Cuisine: German
Serve: Dinner
Hours: Monday - Thursday, 4:00 pm- 9:30 pm; Friday & Saturday, 4:00 pm - 10:30 pm; Sunday 5:00 pm to 8:30 pm
Location: Farragut
Map & Directions
Features:
Full service bar