Cranberry Walnut Orange Cake Recipe
---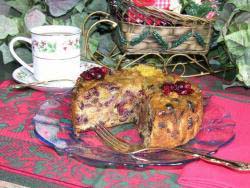 13 large navel oranges
3 1/2 cups unsifted all-purpose flour
1 tb baking powder
1/2 teaspoon baking soda
1/2 teaspoon salt
1 1/4 cups granulated sugar
1 cups (2 sticks) butter, softened
4 large eggs
1 teaspoon vanilla extract
1 1/2 cups fresh or frozen cranberries, chopped
1/2 cup chopped walnuts
1 cup confectioners' sugar
candied orange peel and cranberries

Heat oven to 350'F. Grease and flour a 10-inch tube pan.
Finely grate the zest from one orange and set aside. If you want to make the candied orange peel, and it isn't hard, remove orange peel in strips from the remaining 2 oranges with a vegetable peeler. Cut all oranges in half and squeeze to get about 1 1/4 cups juice. Set juice aside.
In small bowl, combine flour, baking powder, baking soda, and salt.
Using an electric mixer set on medium, beat granulated sugar and butter until light and fluffy. Add eggs, one at a time, beating well to incorporate thoroughly after each addition. Put in grated orange rind and vanilla and continue to beat until combined.
Lower mixer speed to a low setting, and alternately beat in flour mixture and 1 C orange juice until batter is smooth.You should start and finish with the flour mix. Fold cranberries and walnuts into batter then spoon into prepared pan.
Bake in preheated oven for 55 to 60 minutes or until a tester inserted in center comes out clean. Cool cake in pan on wire rack 10 minutes. After it sets for 10 minutes, remove from pan. Allow to cool completely on rack.
Icing: Beat confectioners sugar and 1 tablespoon orange juice until just thick enough to drip from a spoon). If necessary, add more juice, 1 teaspoon at a time.
Make the peel now if you are using it.
Transfer cake to serving plate. Spoon icing over top of cake, allowing it to slowly drip down the side. Top with candied peel and 5 cranberries and garnish with mint sprigs .
Candied Orange Peel and Cranberries: Cut reserved orange-peel strips into 1/8-inch-wide strips. Drop strips into small saucepan of boiling water and blanch 1 minute. Drain strips in strainer. Repeat with fresh boiling water to blanch orange strips again. Drain and return strips, plus 7 fresh or frozen cranberries, to sauce-pan. With fork, stir in 1 tablespoon sugar and heat until sugar dissolves to coat both peel and cranberries. Cool to room temperature.