Baked Spaghetti Recipe
---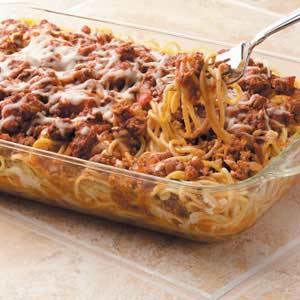 1 package spaghetti (16 ounces)
1 pound ground beef
1 medium onion, chopped
1 jar spaghetti sauce (26 ounces)
1/2 teaspoon seasoned salt
2 eggs
1/3 cup grated Parmesan cheese
5 tablespoons butter, melted
2 cups Ricotta cheese (16 ounces)
4 cups part-skim shredded mozzarella cheese (16 ounces)
Cook spaghetti according to package directions. Meanwhile, in a large skillet, cook beef and onion over medium heat until meat is no longer pink; drain. Stir in spaghetti sauce and seasoned salt; set aside.

In a large bowl, whisk the eggs, Parmesan cheese and butter. Drain spaghetti; add to egg mixture and toss to coat.

Place half of the spaghetti mixture in a greased 13-in. x 9-in. baking dish. Top with half of the cottage cheese, meat sauce and mozzarella cheese. Repeat layers.

Cover and bake at 350° for 40 minutes. Uncover; bake 20-25 minutes longer or until cheese is melted.