Café 4
---
4 Market Square • Knoxville TN 37902 • (865) 544-4144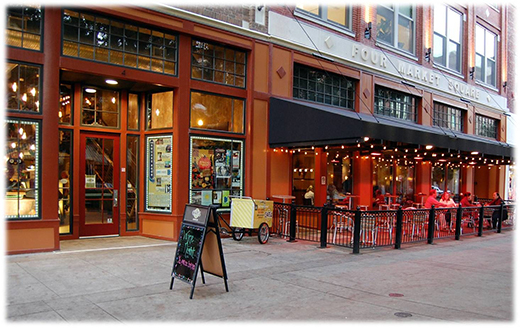 Café 4 at Market Square is a full-service restaurant / bakery/ coffeehouse located in the Historic Market Square District of Downtown Knoxville. The restaurant features a full menu of moderately priced "comfort" food with a "global" flair based upon time honored recipes from around the world. The bakery section features beaux desserts pour un which translates to "desserts for one".

Finally, the coffeehouse includes a casual inviting loft allowing patrons to visit often while inviting the community to enjoy a "Third Place" of comfort for relaxation, conversation and complimentary WIFI.

The entire Café will have an upbeat atmosphere of welcoming service to all who grace the doorway.
Cuisine: American
Serve: Breakfast, Lunch, Dinner
Hours: Monday thru Thursday 7AM to 10PM; Friday 7AM to 11PM; Saturday 9AM - 10 PM; Sunday 9AM - 9 PM
Location: Historic Market Square District, downtown Knoxville
Map & Directions


Features:
Sunday Brunch 9AM - 3 PM
Wheelchair Access