Barley's Tap Room and Pizzeria
---
200 E. Jackson Ave • Knoxville TN • (865) 521-0092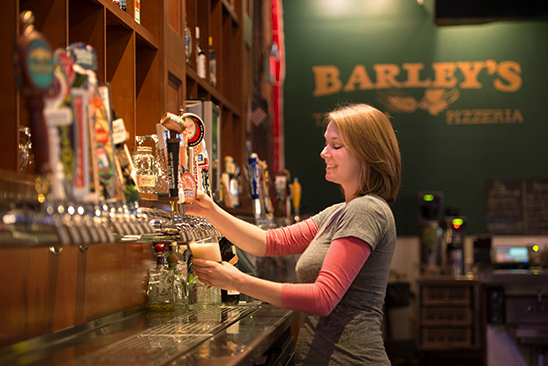 Barley's Tap Room is a 19th century hardware and feed store in Knoxville's historic Old City.

Barley's in Knoxville features the restaurant and stage on the main floor.


The restaurant serves up all the tasty Barley's food and showcases live music including national as well as local and regional acts.

The Knoxville location also has a 3500 sq. ft. patio that provides beautiful views of downtown at sunset.

The downstairs bar has 40 taps featuring the South's best selection of American craft brewed beers. Upstairs is the Billiard Room with 4 regulation slate billiard tables that are available by the hour. Three regulation dart lanes are available for private and tournament play also. An additional 16 taps are highlighted at the upstairs bar.

Step back in time as you enter the historic buildings of each of our four locations that were restored by the owners and staff. The smell of our famous sourdough pizza will greet you as you behold the wonder of over 40 beers on tap. After dinner and a beer, stay and listen to the bluegrass, country, jazz, and Americana music performed most nights. We never have a cover charge and are a "clique"-free environment.

Cuisine: American
Serve: Dinner
Hours: Unknown
Location: The Old City
Map & Directions
Features:
Patio with views
Live music
Billiard Room